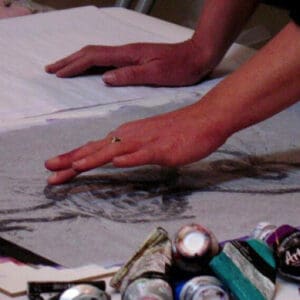 Touch Drawing Retreat: A Creative Process of Discovery
Are you longing for a deeper way to connect with yourself and the Sacred?  Do you sense that there is something emerging into your awareness that wants to be nurtured?  Come and explore the simple yet profound process of Touch Drawing.
Begins: May 26th at 7 pm      Ends: May 28th in the afternoon
Fingers and hands take the place of pen or brush. Tissue paper, placed over a board to which paint has been applied, is the canvas. Wherever the paper is touched, an imprint is made. Impulses from within take form on the paper. This intuitive, meditative, tactile process can yield spiritual insight and open one to self-discovery and emotional healing.
This retreat is a safe and open-hearted experience where engaging in creativity is not about the final product, but about entering into the process and the experience of self-discovery. When creativity is nurtured in this way, we become attentive and curious. We can discover deep play, inner truth, and personal wisdom. In a heart-centered supportive community, on a path of discovery, participants will have the opportunity to do touch drawing sessions, receive guidance for integration, and have time for oneself. No art experience necessary!
Facilitator:  Deborah Kirkpatrick
Deborah has been a CASC certified chaplain at the Misericordia Hospital in Edmonton for the last 26 years. She is ordained with Mennonite Church Canada. Since 2010, Deborah has fallen under the spell of the expressive arts as a means of inquiry, spiritual discernment, and healing. This took her on a six month contemplative sabbatical that began with silence in the Sonoran Desert of Arizona. In 2014 she received her Level Two Certification as a Consultant/Educator from the Prairie Institute of Expressive Arts Therapy. She describes 'art-based' spiritual care as her 'call within the call', and is excited to follow this path. Along with contemplative hiking, you might also find Deborah facilitating labyrinth walks, or Integrative Drum Circles. You might even catch her dancing.
Please contact us to register or if you need more information for this retreat.