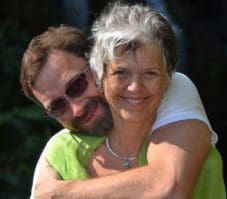 THE JOURNEY TO WHOLENESS: A Courage & Renewal® Exploration
"Wholeness does not mean perfection: it means embracing brokeness as an integral part of life." – Parker J. Palmer
Begins: November 17th at 7pm      Ends: November  20th at 2pm
There is a yearning in us for living wholeheartedly.
As each of us emerges from these years of uncertainty, flux, and pandemic, we can come together to discover our true selves.
We can learn how to bring together soul and role: to experience an undivided life.
The retreat is guided by Dan and Robyn, who have facilitated Circles for thousands of participants. The lineage and wisdom of Parker Palmer and the Center for Courage & Renewal provide a way of being together. Each morning, Robyn guides embodied practices of yoga, breathwork and meditation to help integrate the fullness of our shared learning. As well, we will experience Clearness Committees, a disciplined two hour discernment process originating from the Quaker tradition. In this process a person who longs for clarity – transitional, vocational, relational, or spiritual – has an opportunity to be the "focus person" while a prepared "committee" of others listens and asks open questions. In a Circle of Trust, thoughtful principles and practices create a trustworthy, brave space of attention, imagination, and confidential conversations.
Facilitators:  Dan and Robyn Hines
Cost:  $550 shared, $700 single
Dan serves as an international public speaker, coach and guide in a process of personal and professional development. His leadership consulting and group facilitation has taken him to various cultures and nations: China, Central America, the Caribbean, throughout Canada, the U.S, and on sailboats, surf waves, and hiking trails.
He was mentored by the activist intellectual Parker J. Palmer in the Circles of Trust lineage and by The Center for Courage & Renewal. As co-founder of the intentional community, RareBirds Housing Co-operative, Dan has a passion for environmental justice, exploring alternative living and a sustainable relationship to the land. He serves as an Ambassador for the Global Ecovillage Network.
Dan is an Anglican priest, a passionate activist, a poet, has run for public office, contributed to public policy, and for a decade, managed a zoo! Dan lives on the traditional and unceded territory of Secwepemcúĺecw (Kamloops, BC).  www.danhines.ca
Robyn began her yoga journey over 24 years ago.  She is a 500 HR Yoga Facilitator inspired by Anusara & Iyengar traditions and trained with Embodied Flow™and Revolution Yoga™, both arising from Anusara based Hatha styles of yoga focusing on alignment and 'heart and grace' in flow.
Her yoga journey began after significant tragic personal loss. She tiptoed in, but quickly dove deeply, gaining breadth and depth of practice. On her mat, she found solid grounding in life and flourished in her healing.  There she found her true home, from where she could access calm and a profound connection with her inner teacher.
Robyn shares her love of yoga, offering classes primarily for beginner-intermediate practitioners. She guides gentle flow classes incorporating foundational alignment based asana, yin and restorative yoga, breath-work and meditation. Having struggled for many years with anxiety she values helping others find their own foundation of grounded calm and stillness of mind through consistent practice. She is a keen student of meditation, studying in the non-dual traditions.  She and Dan co-own Odonata Wellness, a boutique yoga wellness studio in Kamloops, BC.
Robyn's career in dentistry and nutrition, along with her love of people and passion for embodied learning motivated her interest in creating a sustainable community.   She and Dan were founding members of the eco-community RareBirds Housing Co-operative. Her large family includes her husband, a blended family of seven adult children, their partners and eight grandchildren.  
Learn more about Robyn and her offerings  at www.odonatawellness.com or Odonata Wellness and Robyn Hines on Facebook and Instagram.
Please contact us to register or if you need more information for this retreat.