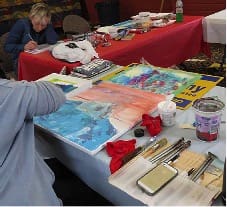 ART: VOCABULARY FOR THE SOUL Retreat
Although this is not an official King's Fold retreat, Sam and Julie have been offering wonderful retreats at King's Fold for many years.  Please contact them directly at the link below if you want to register or have any questions.
An Adventure in Seeking God
Begins: June 23rd at 5pm      Ends: June 25th at 3pm
This Spiritual Retreat is for those who want to connect with God. Whether you are an artist or writer or just curious to try something new, we are all able to connect with God creatively. Students will be encouraged to create in the art of their choice — painting, writing, photography, dance, etc. Instruction for watercolor and drawing will be provided for those who desire it. Coaching for the other painting mediums and writing will also be available. There will be solitude and group time in the schedule, and Spiritual Direction will be offered during the retreat.
Registration: https://growingdeeper.ca/events/art-vocabulary-for-the-soul
Facilitators:  Sam & Julie Drew
Cost:$470 +GST for a shared room.
$560 +GST for a single room.
For information or to register, please email info@growingdeeper.ca.