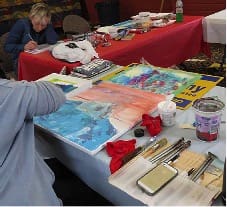 ART: VOCABULARY FOR THE SOUL Retreat
Connecting with God through the Arts
Although this is not an official King's Fold retreat, Sam and Julie have been offering wonderful retreats at King's Fold for many years.  Please contact them directly at the link below if you want to register or have any questions.
Begins: June 24th at 4pm      Ends: June 26th at 3pm
Tap into your hidden depths as you still your heart amidst the beauty of God's creation, quiet your spirit to listen to scripture, and respond with art: painting, drawing, writing, poetry and/or music. Whether you regularly practice art or not, this creative, restful retreat will nourish your soul.
Registration: https://growingdeeper.ca/events/art-vocabulary-for-the-soul
Facilitators:  Sam & Julie Drew
Cost:
$470 +GST for a shared room.
$560 +GST for a single room.
Early Bird special $50 off until March 17, 2022.
For information please email info@growingdeeper.ca.